Today, June 5, is National Donut Day — or National Doughnut Day depending on how you spell it. 🙂
In honor of National Donut Day, we thought we'd bring you 24 homemade donut recipes. Many work around special diets (like gluten- or grain-free) and most happen to be on the healthy side, too. Enjoy!
And some fun history for you — this day was established by The Salvation Army in 1938 to honor the men and women who served donuts to soldiers during World War I. Plus, here's a video about how donuts got to the US.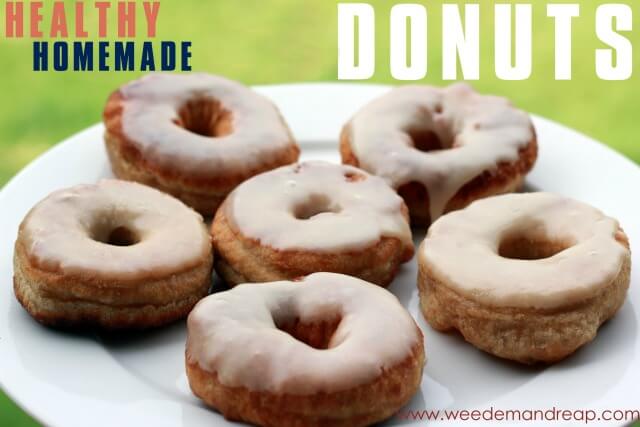 These donuts are soaked making the whole-wheat more digestible, you also "lighten" the flavor, making your donuts fluffy & delicious, as all donuts should be.
Most "healthy" donut recipes would have you bake your donuts. These are the real deal, none of this baking business. The good news is that you can use high-quality traditional fats when you fry your donuts, thereby making them delicious AND nutritious. Via Weedemandreap.com.
These doughnuts contain both yeast (in the sourdough starter) and baking powder, so they are right in the middle of a cake doughnut and a yeast. Even if you have a strong preference for one or the other, either way, you will love these. Via underthehighchair.com.
Make your sourdough donuts without holes and add a little cream filling. Via cmomcook.blogspot.com.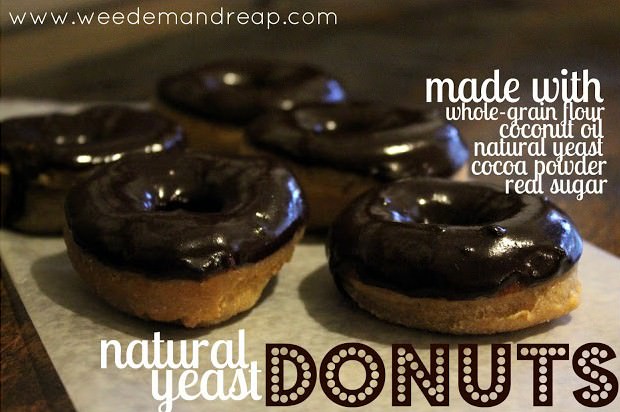 An un-sour natural yeast dough is the basis for these tasty fried donuts. Via weedemandreap.com.
Apple cider flavored donuts! Easy to make at home for a tasty treat. Via TraditionalCookingSchool.com
They're light, they're fluffy, and they're completely delicious and easy too! Use a donut pan so they turn out perfect every time.  Via thesmartcookieblog.com.
A mini-donut pan will make these cute little treats. And they are done in minutes. Via bakersroyal.com.
You'll appreciate its fine crumb and burst of citrus flavor in these tasty little donuts. Via heavytable.com.
A tasty 'cake-style' donut that is very moist and ready in about 30 minutes. Via averiecooks.com.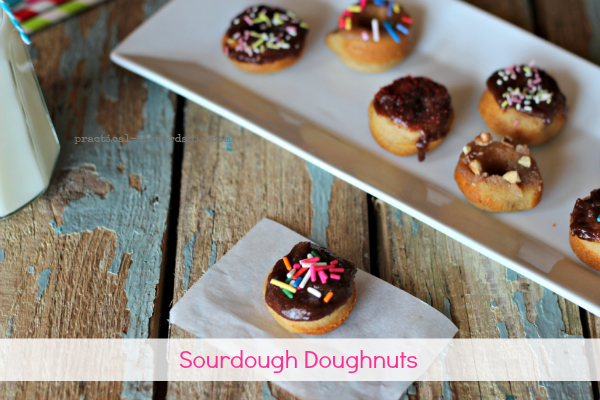 Surprise your children for breakfast with these sourdough donuts! Via practical-stewardship.com.
These doughnuts feel like an extra special treat because they're topped with browned butter glaze and chopped salted pistachios. Via joythebaker.com.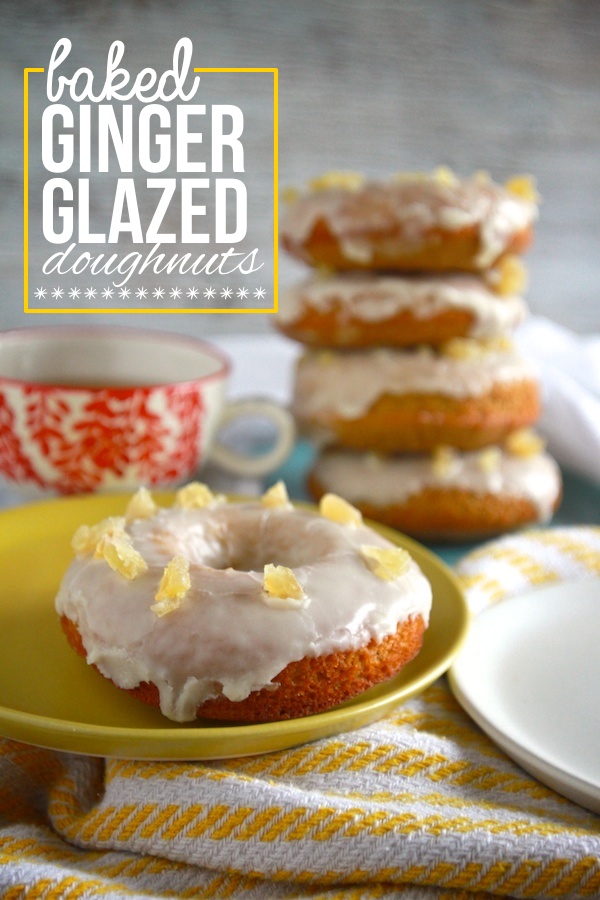 These doughnuts are slightly reminiscent of gingerbread but without the density & super spicy kick. The cinnamon, ground ginger and the bit of molasses give it just enough oomph. What really makes them tasty though, is the vanilla glaze and bits of candied ginger on top. Via shutterbean.com.
These baked donuts need time to rise but are worth the wait. Via homegrownandhealthy.com.
Whole wheat chocolate donuts covered in hard chocolate frosting. It may be chocolate overload but — oh, yum! Via chocolateandcarrots.com.
By substituting the white flour in a typical baked donut recipe for whole wheat flour and oat flour these donuts are higher in fiber and so more filling. I might even consider an unglazed one an acceptable weekday breakfast. Okay, on a Monday you might consider a glazed one an acceptable breakfast. 😉 Via 
stirandscribble.com
.
Pecan Pumpkin Homemade Donuts
A baked gluten-free donut with the perfect blend of pumpkin and spice while being a little nutty and sweet. Via pure2raw.com.
These donuts are very easy to make.  Soak the flour one day.  Bake the donuts the next.  Even the glazes only take a few minutes to prepare. Via homemadedutchapplepie.com.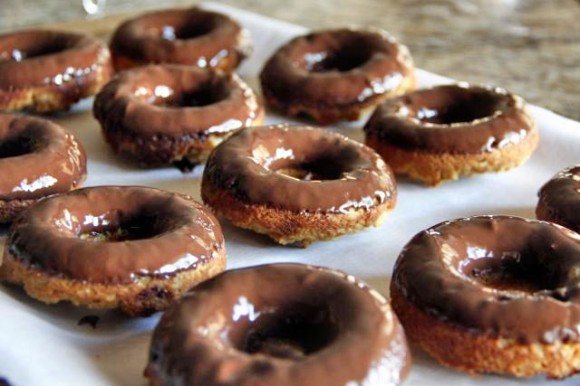 Who said you have to miss out on donuts when eating grain-free? Via lottamadness.com.
These little pumpkin bites are moist and delicious with a hint of cinnamon. Via gapsdietjourney.com.
These delightful donuts are perfect with just a sprinkling of powdered sugar, or powdered coconut. For an extra special treat, serve them warm with a cup of hot apple cider. Via honeyvillefarms.blogspot.com.
A dense and filling low carb treat. Via healthylivinghowto.com.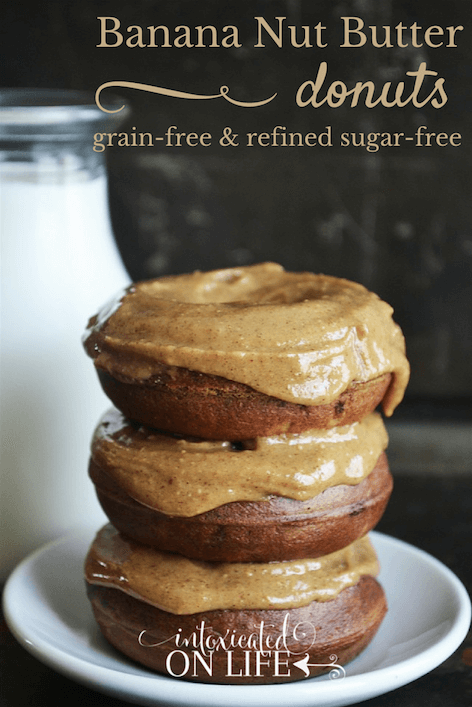 These grain-free, sugar-free Banana Nut Butter Donuts are a simple, tasty start to any day. Sweetened only with fruit, they're perfect for breakfast, or add a little honey-sweetened icing and serve them for dessert! (Or you could still eat them for breakfast.) Via intoxicatedonlife.com.
Grain-free and nut-free baked donuts. Yes, please! Via thepaleomom.com.
Yes, you read that right. Check out these fun, savory and healthy mini-donuts. Via scratchmommy.com.
Have you made homemade donuts? What's your favorite recipe?
Please follow and like us: